John Stephenson's "famous cousin"
---

RODGER BINGHAM: "A SURVIVOR"
By Kevin Hedenberg
Rodger Bingham, a name that has been used quite frequently over the past few weeks here in the state of Kentucky, as well as nationwide. Why is he so important, you may ask? Well, he's one of the sixteen contestants on CBS's hit television reality show Survivor: The Australian Outback.
---
Photograph courtesy of David Stephenson, a photographer with The Lexington (Kentucky) Herald Leader
---
Why would they pick someone from the small town of Crittenden, let alone anyone from Kentucky for that matter? The answer is simple. They chose Rodger Bingham, a man highly respected around his community and a man envied by 48,884 other people not chosen for Survivor: The Australian Outback.
Rodger was born July 5, 1947, to his proud parents Pierce L. and Francis E. Bingham, at Booth Memorial Hospital in Covington, KY. At the time, his father, Pierce was a switchman at Southern Railway in Covington, and his mother, Francis, a homemaker. Rodger has one older brother, Barry, who is a veterinarian in Crittenden.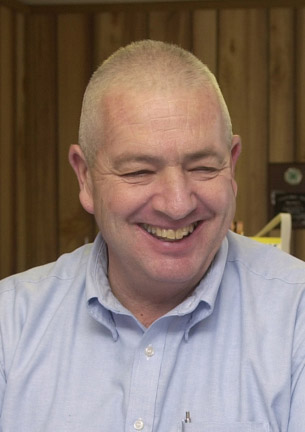 ---
Rodger's brother, Dr. Barry Bingham of Crittenden, Kentucky
---
Pierce later moved on to become both a farmer and a CEO at the Bank of Crittenden. Francis held positions as a telephone operator for Cincinnati Bell and a clerk for the Department of Agriculture in Williamstown, KY.
Rodger has always lived in Crittenden. He went to elementary school at Crittenden Elementary until the eighth grade. He attended Grant County High School from 1961-1965. During that time period, Rodger excelled in athletics. Rodger played basketball from his freshman year through senior, and competed in track and field. He still holds the Grant County Varsity basketball record for most rebounds in one game at 38. And up until three years ago, he held the school discus record with a toss of 129'1/2". For his accomplishments on the hardwood, he was inducted into the Grant County Basketball Hall of Fame in the early 90's. He and his daughter, Angela, are the only father/daughter combination in the Hall of Fame.
Rodger met his real match outside of athletics, though when he began dating Patricia Spillman during the summer following his junior year. The high school sweethearts became Mr. and Ms. Grant County their senior year.
Following graduation from high school in 1965, Rodger decided to enroll at Eastern Kentucky University to pursue a degree in Industrial Arts. To make ends meet during college, Rodger would hitchhike home on several weekends to work at a local gas station and raise tobacco on his father's farm.
In the fall of his junior year at EKU, Rodger and Pat decided to get married. The ceremony was held at Sherman Baptist Church, in Sherman, KY. Rodger quotes that as "one that will live in infamy". Pat worked at the EKU bookstore during the week to help support the two of them, and both would return to Grant County on the weekends so Rodger could continue his work at the gas station and on the farm.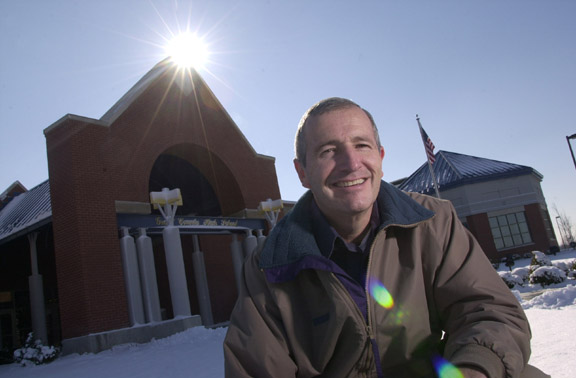 To the chagrin of all in Grant County, Pierce, Rodger's father, passed away in November of 1969. Rodger had just completed his B.S. in Industrial Arts, and was currently working on his Masters Degree in Industrial Arts. The board of directors at the Bank of Crittenden met following Pierce's death and decided to offer Rodger the job his father had previously held. Rodger completed his degree in December of 1969 and immediately began his new position as CEO of the Bank of Crittenden.
On August 31, 1971, Rodger and Pat gave birth to their only child, Angela. She has been pegged as his greatest accomplishment. Angela was born at St. Luke East in Ft. Thomas, KY. Rodger would come home every day for lunch while working in the bank to feed her. She was and still is her parent's pride and joy.
Rodger used his industrial arts background in 1973 to build his current home located at 243 Eads Road. The home was built on his parent's eighty acre farm. He and his family have resided there ever since.
Being chosen to run a bank without prior experience is just one example of Rodger's ability. He was very successful at his new career, and in 1980, accepted similar position with Citizen's Bank in neighboring Dry Ridge, KY.
However, Rodger was seeking a new challenge and undertook one when he purchased Crittenden Lumber Co.in 1984. Again, the business thrived behind Rodger's continued diligence.
He and Pat sold the lumber company in 1986 and immediately purchased some land to develop a mobile home parks in Grant County. Many doubted that Grant Mobile Home Park would succeed, but, again, Rodger proved he was capable of whatever he put his mind to. There are now several mobile home parks in Grant County.
During the summer of 1987, an administrator from Grant Country High School called Rodger and asked if he'd be interested in the Industrial Arts position. Never being one to to turn down a challenge. Rodger accepted the offer and has been a teacher ever since.
Never one to rest on his laurels, Rodger purchased another large plot of land and in 1989 and began developing Winn Lynn Acres subdivision. The name Winn Lynn Acres was derived from his mother's name of Winn, and Lynn is his daughter's middle name. All the lots quickly sold and today it is one of the nicest subdivisions in all of Grant County.
Rodger's daughter, Angela, got married in June of 1996 to Kevin Kedenberg, a "city boy from Chicago". Angela and Kevin kept the Bingham family in close proximity by building their home on Rodger and Pat's farm. Rodger and Kevin completed much of the work themselves, as well as subcontracting out the "big stuff".
Continuing the role of the risk taker, Rodger purchased Hy-Ridge Mobile Home Park of Dry Ridge in 1998. He turned around and sold it the next year for a considerable profit.
From birth, he has been a member of Crittenden Christen Church. Ministers and members have come and gone, but Rodger has always been a dedicated leader in the church. He's held the position of Deacon, Sunday School Teacher, Superintendent, Chairman of the Board, and Elder. Rodger Bingham is an integral part of Crittenden Christian Church who has earned much respect and adoration by his fellow church family members.


Is hobbies include being a real estate investor, spending time with family and friends, involvement with church and exercising. He can hold his his own against any table tennis challenger, having won several competitions in college.
He also enjoys traveling with his family to such locations as Las Vegas, Hawaii, the Grand Caymen Islands, and the Bahamas.
When the hit TV show Survivor first aired in the spring of 2000, Rodger immediatly shared his interest in being a contestant if another show were created. Much to Rodger's delight, Australia was chosen as the sight for the next show. With the assistance of his daughter and son-in-law, Rodger prepared a three-minute video detailing why he should be chosen as the the next Survivor. He submitted his video to Pittsburgh. His daughter, Angela, also submitted a video, but was not chosen.
In mid August, Rodger was contacted by CBS and instructed to come to Pittsburgh to interview for the show. There were 49,000 applicants, and CBS had narrowed the field down to 800. Rodger interviewed in Pittsburgh for an hour and a half and felt very confident once the interview was over. He had overheard the other contestants were only receiving a fifteen minute interview, while his was six times that length. Rodger returned home from Pittsburgh and anxiously awaited a phone call.
He received his phone call from CBS in early September, and flew to Santa Monica, CA, along with 47 other hopeful contestants. After two weeks of grueling interviews, Mark Burnett, the executive producer of Survivor, entered Rodger's hotel room and shared with him that he had been chosen as one of the 16 contestants.
To this day, Rodger still has a hard time believing that the rest of the nation will be sitting down on Thursday evenings and see him on television. But his background has him perfectly suited for such an adventure. There is no one more capable of being the final survivor than Rodger Bingham. He has the support of his family, his town, and the entire state of Kentucky. And by the by, a country boy can survive!
BY KEVIN HEDENBERG
---
Rodger will be honored by the leaders of the Commonwealth on Feb. 20th in the Legislature and the Governors Office at 2:00p.m.
---

Rodger Bingham on the family farm.
---

Rodger Bingham " A Survivor from Kentucky"

---

Pat Bingham-Heather Svokos (Pop-Culture reporter Lexington Herald Leader) Angela Bingham (Rodger's daughter) Rodger Bingham, David Stephenson (Photographer Lexington Herald Leader)


---





---





---



Rodger in 1958 (11 years old)


---



Roger and Pat Wedding, 1967


Rodger Bingham 1964 Grant County High School

---


If you would like to see pictures of Rodger and other team members in action, CLICK HERE.


---


BACK TO MAIN PAGE